Sports Camp
We supported Network of Children's homes in conjunction with Extreme Response International as they organised a sports camp for disadvantaged kids in the Philippines. They spent 6 days in Rizal Laguna at Rizal Recreation Centre learning about American football, touch rugby, volleyball and basketball.
Children's Home Visit
The Manila Children's Home opened on January 13, 2014 with a mission of caring for at-risk children, particularly 6 to 18-year-old boys who have been neglected or abandoned to a life on the streets
On our latest trip to the Philippines with Paul from the US, we paid them a visit!
Ecobrick Plastic Recycling
Plastic pollution has become a prevalent environmental issue especially in the Philippines. The Brick It On Project aims to mitigate and reduce the amount of plastics being thrown into the ocean and rivers by transforming these plastics into ecobricks.
An ecobrick is a plastic bottle packed solid with non-biological waste to make a reusable building block. It can be used to construct plant boxes, home furniture, or use them to nurture green spaces in backyards and school gardens.
Tree Planting
Since the environment is important to us at Sharesource, we decided to coordinate with our local government about the possibility of planting some trees. The chosen place: Bucana, about 20 minutes away from the Davao office.
All the staff were encouraged to come along and help out and in total we managed to plant 87 mangroves in one day!
Trip to Mind Museum
Last October 14, Sharesource and Biarri Networks spent a day with some Barangay Nangka Educational Beneficiaries at the MindMuseum, BGC. The activity meant to expose the kids to the larger world of the sciences and inspire them to pursue STEM tracks in college.
Along with the tour of the museum, we put together a number of workshops such designing a protective cover for an egg in an effort to protect it when it was dropped from the third floor.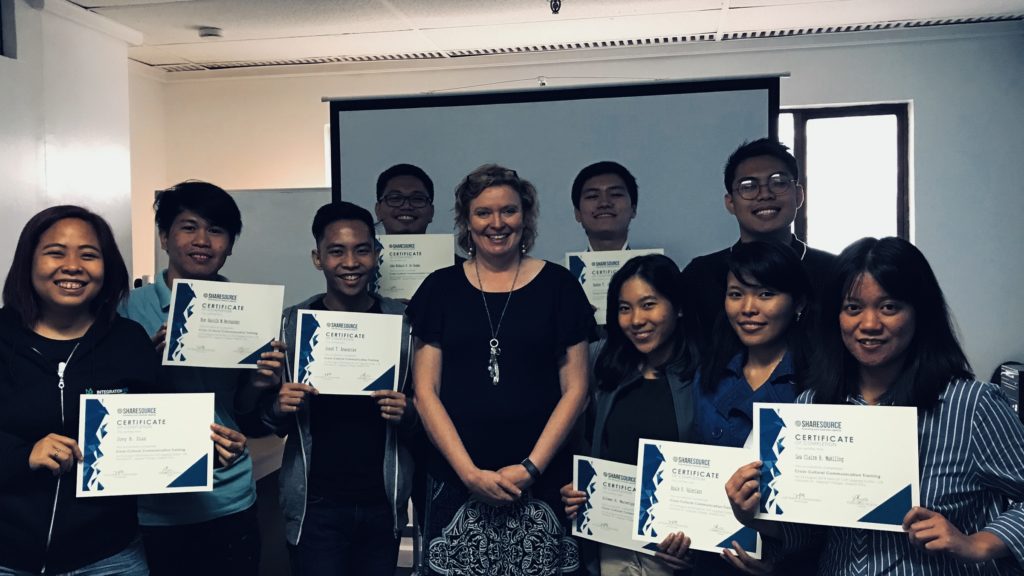 Cross-Cultural Training
The Sharesource team did some great training to bridge cultural gaps, building stronger connection with our Australian friends.
The biggest surprise – our Aussie Slang!